The cam and valve train in any engine is a very key part of how the engine works.
The cam is driven off the crank shaft with the timing chain. As the crank turns with the engine, it rotates the cam. The lifters ride on the lobes of the cam causing the valves to open and close. Each value needs to work in unison with the engine.
The valve train chosen determines which cam to use. The 1968 Ford 302 came with a flat tappet valve train and hydraulic lifters. The picture of the lifters on the lower right are flat tappet lifters. The picture on the lower left are roller rocker lifters. Notice the wheel? Roller rocker valve train takes engine cams to the next level. Ford went roller rockers in 1985. Roller rockers are more efficient, with less wear. You can go with a more radical cam grind with a roller rocker valve train. The 302 blocks from 1985 on were made for roller rockers. The older blocks were not. But there are kits to put roller rockers in these old engines.
But you can also do pretty good with flat tappet lifters. We've been using that set up very successfully for many years . Current technology has evolved what's available for these old blocks. Dan wanted to stay with flat tappets.
Adequate Vacuum for Power Brakes
A concern in the background as you pick a cam is whether you need vacuum for things like a brake booster. My car has power brakes. Too radical of a cam lowers the vacuum which affects the power brakes. In this case, immediately after I got the car back I had minimal power brakes. Hit the brakes a couple of times and the power brakes basically went away. As I put miles on the engine, the power brakes came back. Dan told me it was likely loss of vacuum due to the piston rings not being set yet. The Comp cam he picked promised not to rob the brake vacuum.
The internal combustion engine is really an awesome work of art. How the parts all work together and produce energy to cause a car to move is pretty amazing. And to think you can make it work better and get more power.
The cam plays a pretty key roll in getting more horsepower from the engine. The longer an intake valve is open, the more fuel and air can enter the cylinder. More fuel and air should yield more power. The exhaust valves need to be open long enough for the exhaust gases to leave. If the exhaust valve is open too short, exhaust gases will remain in the cylinder diluting the fresh fuel and air coming in. The proper cam grind optimizes where the valves are during the strokes.
Cam technology has evolved tremendously since 1968. Back in 1983 when I rebuilt the engine, I put a high performance hydraulic cam that I got from Ford Motorsport. It was the hydraulic version of the Ford HiPo Mechanical cam. It had a intake lift of .470. A great nice cam that gave a nice rough idle to it.
If you want to read more about this topic here is a link to a pretty great discussion about selecting a cam and valve train for a small block Ford engine. Part of my research.
My engine builder wanted to go with a more radical valve train. Dan liked the Comp Cam listed below. This is what my engine received.
====================

Lift: .509″ /.512″ Duration: 268°/280° RPM Range: 1600-5800
The Leading Edge of Valve Train Technology
Comp Cams Xtreme Energy series are perfect for any street or street/strip application where both throttle response and top-end horsepower is desired. These camshafts are designed to take advantage of the latest and greatest in valve train technology . Their aggressive lobe design produces better throttle response and top end horsepower than other cams with the same duration @ .050" lift, while delivering increased engine vacuum. We do not recommend the use of stock valve springs with these camshafts due to the aggressive lobe designs.
Features:
– Quicker opening lobe profiles deliver increased responsiveness & more area under the lift curve
– More vacuum allows an increase in duration for improved performance and assists power brakes
– Excellent performance in street carbureted applications
– Best performance with aftermarket intake manifolds, headers, lower gear ratios
Camshaft & Lifter Kits are indicated by a CL in their part number and include Camshaft, Lifters, Assembly Lube, Decals, and Instructions.
Complete Kits are indicated by a K in their part number and include Camshaft, Lifters, Timing Chain & Gears, Valve Springs, Retainers, Locks, Assembly Lube, Decals, and Instructions.
Small Kits are indicated by a SK in their part number and include Camshaft, Lifters, Timing Chain Set, Assembly Lube, Decals, and Instructions.
COMP Cams Xtreme Energy cam and lifter kits are built to take advantage of the latest cam technology and provide maximum performance. Whether your use is off-roading, towing, or street performance, there are Xtreme Energy options available for you. By using an aggressive lobe profile, they provide better throttle response and more top-end horsepower than equivalent kits from other manufacturers, while delivering increased engine vacuum.
Brand:COMP Cams
Manufacturer's Part Number:K31-242-3
Part Type:Camshaft Kits
Product Line:COMP Cams Xtreme Energy Cam and Lifter Kits
Summit Racing Part Number:CCA-K31-242-3
UPC:036584034186
Cam Style:Hydraulic flat tappet
Basic Operating RPM Range:1,600-5,800
Intake Duration at 050 inch Lift:224
Exhaust Duration at 050 inch Lift:230
Duration at 050 inch Lift:224 int./230 exh.
Advertised Intake Duration:268
Advertised Exhaust Duration:280
Advertised Duration:268 int./280 exh.
Intake Valve Lift with Factory Rocker Arm Ratio:0.509 in.
Exhaust Valve Lift with Factory Rocker Arm Ratio:0.512 in.
Valve Lift with Factory Rocker Arm Ratio:0.509 int./0.512 exh.
Lobe Separation (degrees):110
Grind Number:FS XE268H-10
Computer-Controlled Compatible:No
Lifters Included:Yes
Lifter Style:Hydraulic flat tappet
Valve Springs Included:Yes
Outside Diameter of Outer Spring (in):1.437 in.
Retainers Included:Yes
Locks Included:Yes
Valve Stem Seals Included:Yes
Timing Chain and Gears Included:Yes
Timing Chain Style:Double non-roller
Assembly Lubricant Included:Yes
Pushrods Included:No
Rocker Arms Included:No
Gaskets Included:No
Valve Springs Required:No
Quantity:Sold as a kit.
Footnotes:33 – Pre-1972 engines use Part number 3220.
Valve Train, Rocker Arms and Valves
Dan, my engine builder, liked Elgin valve train and rocker arms with that Comp Cam. That worked for me. But he wanted to use Comp Springs.
Elgin Industries in Elgin, IL is a long time manufacturer of all kinds of steel parts. Their line of Rocker arms are state of the art. They call the Elgine Pro Stock Black Ice. Performance through Cryogenics.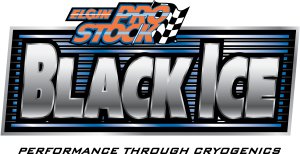 New Elgin® PRO-STOCK® BLACK ICE™ engine parts provide an array of track-proven advantages unavailable through any other production performance products:
Maximum attainable hardness from heat-treated base material
Maximum material and geometric stability and uniformity
Maximum wear resistance
Elimination of material stresses and mass changes
Dan wanted to use these Roller Tipped Rocker Arms. This is a huge improvement over the stock 1968 parts. Click on the above link if you want to read about these rocker arms. They have a ratio of 1.6 which enhances the lift of the cam.