So this is a car with more than 100,000 miles on it. The prior owner said they did some flying trips to Florida to visit his wife's parents. Whatever, but it was a high mileage 1968 Mustang.
With high mileage on a 1968 Mustang comes worn out suspension parts. One of the common issues with this particular suspension is you can't grease the upper control arm ball joint so it's going to wear out for sure. I put off doing the suspension as long as I could. Other things to fix first, right? One day about 2001, I had the car in the shop for some maintenance. The Mechanic called me over and showed me how loose the left front tire was meaning a bad ball joint. And he stressed that soon the wheel was going to come off and it would likely be a terrible accident. Ok, I get it. I knew that ball joint was not good in shape.
So I did a Google search to see what was available and what the parts cost. I ended up talking to John at OpenTrackerRacing.com. Saw him recommended on a classic Mustang forum. John races these old cars and knows them probably better than anyone else I have ever talked with. And John had the replacement parts. He told me he had different levels of parts depending on what you wanted to do with the car and your budget. He recommended I replace all the front and rear parts with that many miles on the car. New upper and lower control arms, shocks, springs, etc. Whole new front end suspension. Hey, I did have a bad ball joint on one side. And John's upper control arms had a grease insert on the ball joints.
John strongly suggested I replace the front coil springs, too. All those parts had to come off to do the control arms so I might as well put on new parts. John recommended his performance coil springs which were shorter and stiffer than stock springs. He said I would like the lower stance. Ok.
I took my car to Samaritan to install these front end parts. A much bigger project than I wanted to deal with myself. As I was leaving, I told Chris, the owner, that I had a tire rubbing issue right now, and these new springs were an inch shorter than stock. He told me not to worry, he sold tires. But he said he would measure where it sets now and where it ended up. When I picked the car up that evening he laughed at me and said those new, shorter springs raised the front of the car up TWO inches. John was right, those original springs were tired and needed replacing. Huge difference in how the car handled.
Part two of this conversation was replacing the rear leaf springs. Again I called John at Opentracker. He recommended I go with 4.5 leafs with a Mid eye to lower the rear to match the shorter front springs and stiffen up the rear suspension. The car still had air shocks on the rear that the prior owner installed. New leaf springs and new rear Bilstein performance shocks were installed. OMG, did those changes improve the handling of the car. I did not realize how loose those tired leaf springs and air shocks made that rear end. Now it's tight and controlled. I also replaced all the hardware, nuts and U bolts.
The new leaf springs resulted in the front end being about an inch higher than the back. John assured me the cars came from Ford like that. Well, I didn't want the front higher. So Samaritan Tire cut about half a coil out the front springs dropping the front end about an inch making it pretty level. The suspension is so much stiffer and tighter. Funny what you get use to. This car goes where I aim it now and doesn't fight me or give me surprises like it used to.
What did I end up with? A very nice handling Mustang. Much better than stock. HUGE improvement over what I had been driving. Sad what you get use to. Pretty tight and stiff ride. Definitely doesn't ride like your father's Buick. Dropping the height an inch on both ends really added a subtle dimension to the car. You don't necessarily see that it sets lower but the car looks more aggressive. This is a Muscle Car. My wife calls it "loud and obnoxious". Yes, it is that and more. It's a pretty cool ride especially with the new extra horsepower. Perfect combination. All those choices add to the driving fun factor.
John strongly suggested I add a couple of other upgrades to improve the handling. He had some roller spring perches and adjustable strut rods.
The Spring Perches
John's spring perches use sealed roller bearings as the pivot point instead of a rubber bushing. This upgrade provides a huge gain in ride quality, responsiveness to the road, stability under braking and handling. The entire weight of the front end rides on these two pivot points and the stock rubber bushing greatly increases the effort required for the suspension to move.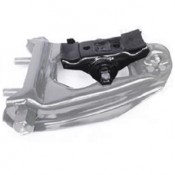 These spring perches offer a vast improvement in performance and handling using roller suspension. Removing the bind from the suspension and steering pivot points provide a huge gain to any performance driven vehicle.
Strut Rod
The stock strut rod on the Fords of that year left much to be desired. Yes, It helps secure the Mustang's front lower control arms by mounting them to the frame. The body end had a large rubber bushing that yielded poor control and attachment to the body, plus it is going to wear out and get worse. These upgraded strut rods bolt to the lower control arm and have a pivot joint on the body end that bolts to the body frame. This piece tightens up the front end giving more stability and control. Plus it becomes a key piece of the alignment allowing more adjustment. One of the strut rods on the car had some bad threads making proper alignment difficult. Stock replacement strut rods are pretty inexpensive, These custom strut rods were about $400 for the pair versus the stock ones for about $45 each. You can feel the difference in the steering and handling.